August 3rd, 2016
Will be hosting a night of new works  for lounge band by composers: Chris Lightcap (NYC), Ingebrigt Håker Flaten (Norway/Austin), Bob Hoffnar (Austin) and Michael St Clair (Austin)
Musicians are:
Michael Patrick St Clair  (trombone/synth)
Bob Hoffnar (pedalsteel)
Aaron Allen (bass)
Stephen Bidwell (drums)
---
The tuba player and composer Robin Hayward was born in Brighton, England in 1969. He studied classical music at the Univ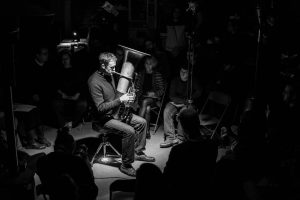 ersity of Manchester and tuba at the Royal Northern College of Music, where he graduated in 1991. In following years he was active in the improvised and experimental music scenes in Manchester and London. Since 1998 he has been based in Berlin.
He has introduced revolutionary playing techniques to brass instruments, initially through the discovery of the 'noise-valve' in 1996, and later through the development of the first fully microtonal tuba in 2009. In 2012 he invented the Hayward Tuning Vine, partly out of a desire to visualise the harmonic space implicit within the microtonal tuba. In 2005 he founded the ensemble Zinc; Copper to explore brass chamber music from an experimental music perspective.
Workshop: 9th September @ Museum of Human Achievement
Berlin-based micro-tonal tubaist Robin Hayward in the first of two events in Austin. This workshop/concert features a hands-on tutorial on the function of the Hayward Tuning Vine – an interface for exploring the system of microtonal tuning known as Just Intonation. It enables direct and intuitive interaction with the pitches normally hidden between the keys of the piano keyboard.
Following the workshop is a concert featuring a series of improvisations with:
Robin Hayward: Tuba / Composer
Bob Hoffnar: Pedalsteel / Composer
Seetha Shivaswamy: Flute
Chris Cogburn: Percussion
Michael St.Clair: Trombone
Thomas Helton: Double Bass
7pm: Workshop
– Free participation with licensed copy of software ($40 + VAT)
Hayward Tuning Vine
– $10 donation to observe
9pm: Concert
– $10 (Free with workshop admission)
Concert: September 12th @ Museum of Human Achievement
Robin Hayward is back in Austin presenting some new works for musicians and the Hayward Tuning Vine. Robin is a special musician and he is working with a stellar and diverse cast of Austin players.
with
Robin Hayward (Berlin): tuba
Bob Hoffnar (Austin): Pedalsteel
Seetha Shivaswamy (Austin): Flute
Chris Cogburn (Austin): Percussion
Michael St.Clair (Austin): Trombone
Thomas Helton (Houston): Bass