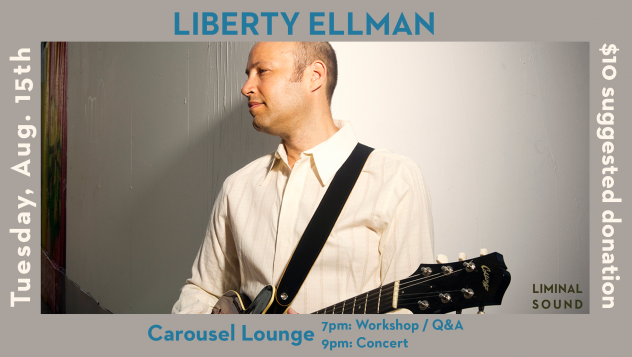 7:00 question and answer form workshop.
9:00 concert With Mike St Clair, Stephen Bidwell, Bob Hoffnar, Aaron Allen and guests.
Based in Brooklyn New York, guitarist / composer Liberty Ellman has performed and or recorded with a host of stand out creative artists including: Joe Lovano, Myra Melford, Wadada Leo Smith, Butch Morris, Vijay Iyer, Steve Lehman, Greg Osby, Rudresh Mahanthappa, Nels Cline, Somi, Matana Roberts, Ledisi, JD Allen, Michele Rosewoman, Adam Rudolph, Josh Roseman, Barney McAll, Okkyung Lee, Steven Bernstein, Ben Goldberg and John Zorn. In 2014 Ellman worked with Jason Moran on Luanda Kinshasa, a video installation by visionary filmmaker Stan Douglas.
Mr. Ellman is perhaps best known for his long tenure in Henry Threadgill's groundbreaking ensemble, Zooid. The group has recorded several critically lauded albums. Their most recent recording "In For A Penny, In For A Pound" earned a Pulitzer prize for Mr. Threadgill. In addition to playing guitar, Mr. Ellman is credited as producer and mixing engineer on that recording. He has mixed and mastered many other recordings as well, including Gregory Porter's "Be Good," which was nominated for a Grammy.
Ellman has released 4 of his own critically acclaimed albums: Orthodoxy, Tactiles, Ophiuchus Butterfly, and 2015's Radiate on Pi Recordings. His compositional style has been described as "At once highly controlled and recklessly inventive," and the Wall Street Journal said: "Ellman, along with his peers, is helping to define post millennial jazz." Voted #1 Rising Star Guitarist in the 2016 Downbeat Critics Poll, he was also honored in the 2015 Jazz Times expanded critics poll, as one of the four guitarists of the year alongside Bill Frisell, John Scofield and Julian Lage.
Liberty Ellman has also worked beyond the jazz world: hip hop artists Midnight Voices, and The Coup, dance producer DJ Joe Claussell, and worked on remixes of N'Dea Davenport, Chico Freeman, Ann Dyer, Ayo and others. He also made an appearance on the Grammy nominated Groove Collective record, People People Music Music.
http://www.libertyellman.com/